Do you know many MuleSoft developers with MSc in Physics and Medical Engineering? Meet Olga Kepa - an example of how a career can change in a drastic way when you pursue your dream.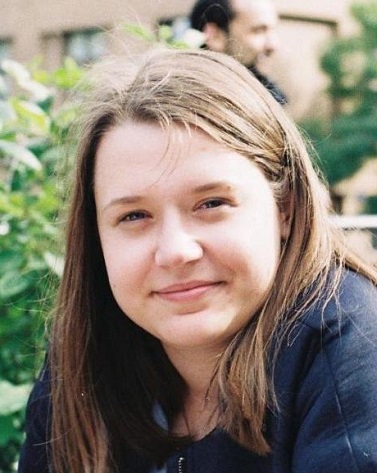 Olga Kepa talks about her career change, training, exams, work and aspirations.
Learning physics at the university during the day, she spent evenings coding in Java. After graduation, Olga thought long and hard and decided to follow her passion. She joined Infomentum as an intern and soon became a member of our MuleSoft development team.
MuleSoft's Anypoint is one of the top (if not the top, according to Gartner) integration platforms. Therefore, it's not surprising that it has become a career choice for many young developers. As a MuleSoft training partner, we often get asked how to become a Mule expert. What are the prerequisites for training and certification? Is it hard to master MuleSoft? How long does the training take?
Today, we've invited Olga to be our guide into the world of MuleSoft and to tell us about her experience of studying, taking exams and working as a MuleSoft Developer.
What is MuleSoft used for? How is it connected to Salesforce?
The popularity of MuleSoft integration platform has been growing fast. In September 2020, Gartner named MuleSoft a Leader for the 6th time. Back in 2018, it was acquired by Salesforce primarily to accelerate customers' digital transformations. MuleSoft's Anypoint Platform is now a part of the Salesforce Integration Cloud. Conversely, MuleSoft has a pre-built connector and accelerator into Salesforce for seamless integration.
What are prerequisites?
Is Java required for Mule training?
One of the main prerequisites for the training is some experience in programming, especially with Object-Oriented languages like Java. It's good to have a basic understanding of data formats, such as XML, CSV, and JSON, and integration technologies like HTTP, JMS, JDBC, REST, and SOAP.
I self-studied Java in my spare time; this experience helped me immensely during the training.
Is coding required for MuleSoft?
Yes and no. The requirement for coding is minimal. Coding is mainly needed to perform data transformation. DataWeave, MuleSoft's expression language, is used to access and transform data exchanged by MuleSoft applications.
The actual implementation is done by drag-and-drop the out-of-the-box components, such as routers and connectors to various systems and databases.
In my projects, I spend, on average, only 20% time coding.
How long does it take to learn MuleSoft?
Let's look at the 1st stage of the learning path - becoming a certified MuleSoft developer. You have two options - self-study or instructor-led courses. The Anypoint Platform Development: Fundamentals course is free and available to everyone. It usually takes 2-4 weeks, depending on your experience with integration technologies and your pace of learning.
The other option is to take an instructor-led 5-day Anypoint Platform Development: Fundamentals course. During these five days, you will dive deep into the various topics required to become a Mulesoft Developer.
What is the best way to learn MuleSoft?
The instructor-led training is more impactful than a self-learning course. You learn much faster under the close supervision of your instructor. It is designed to get you up to speed with MuleSoft as quickly as possible. Although the self-study course has less support, you can spend more time studying different concepts as you are in control of the learning pace.
To become a certified MuleSoft Developer, you need to pass an exam. If you self-studied, you need to purchase a voucher for your exam. As a part of the instructor-led training, you receive a voucher for two exam attempts.
How difficult is MuleSoft certification?
You've done the training and are ready to take the 2-hour test - a MuleSoft Certified Developer - Level 1 (Mule 4) exam. It consists of multiple-choice questions based on real-life scenarios. The passing score is 70%.
Be well prepared, get some hands-on experience using the exercises provided. MuleSoft website is a source of very useful information. Don't skip DIY exercises; try self-assessment quizzes. The MuleSoft training forums are also brilliant. You can ask any questions related to the training and get your doubts clarified by members of the MuleSoft community.
It's worth mentioning that the MuleSoft certification expires two years from the date you pass the exam!
Describe the certification exam.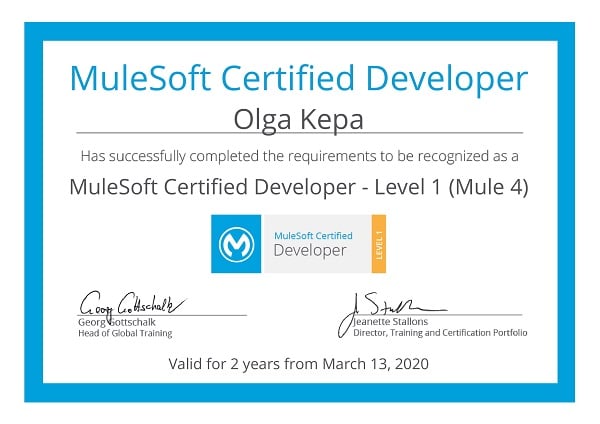 The exam can be taken either online and or at various global test centres. I presume all exams are carried out online during the pandemic.
When I completed my training, I used a voucher to book a certification exam - selected a date and time, and a format (online). I was asked to download the software required for the examination. When the time came, I logged in and followed the instructions. Throughout the test, you are monitored by a webcam, so no cheating!
I passed the MuleSoft Developer exam at the first attempt. I would say that the majority of people who prepared well, practised and spent time completing exercises pass the exam without problems.
Is MuleSoft training free?
The self-paced Anypoint Platform Development: Fundamentals course, I mentioned earlier, is free and available to everyone. For the instructor-led classes and certifications, you have to pay.
What's the learning path for a MuleSoft Developer?
Once you become a certified MuleSoft Developer, you can keep enhancing your knowledge and skills. There are plenty of courses to choose from, such as Anypoint Platform Development: DataWeave or Anypoint Platform Development: Production-Ready Development Practices (Mule 4). These advanced courses are instructor-led and are not free.
Once you gain confidence as a developer, you can study further and take an exam to certify as a MuleSoft Architect. Another option could be to progress to a MuleSoft Certified Platform Architect (Anypoint Platform Architecture: Application Networks course) or a MuleSoft Certified Integration Architect (Anypoint Platform Architecture: Integration Solutions course).
Once I get enough experience as a MuleSoft developer, I aspire to become a MuleSoft Architect.
Is MuleSoft Developer a good career path?
Definitely! All projects I've worked on were very interesting and diverse. MuleSoft enables integration of any application regardless of the technology. It means that there are a great variety of projects to be involved in
And you can always learn more and grow in your career.
Do you enjoy your work?
Yes, I certainly do! It's been an exciting ride; from day one I was involved in various MuleSoft projects and even took part in organising one of our popular Hackathons. It was an excellent opportunity to put my MuleSoft skills into practice. During the preparation, I tested the code and put together labs for the Hackathon's participants. It was mind-blowing to see people without any previous MuleSoft experience building a complete end-to-end integration.
I also wrote a blog about how to testing with MUnit Test Recorder.
Although I'm quite a new developer, the training prepared me to start working immediately. And my more experienced colleagues are always here to help and support me.
What would you say to young people who are considering a career in MuleSoft development?
I highly recommend studying MuleSoft if you are interested in IT development. The prospects are endless! The demand for these skills is steadily growing as more and more businesses are pursuing digital transformation using MuleSoft technology.
Good luck for your training!
---
Olga was featured as a 'Pro of the Quater' in MuleSoft's 'Meet the top Q4 MuleSoft Community contributors' report on February 2021.
The other amazing woman we wanted to feature as a "Pro of the Quarter" is Olga Kepa! She recently shared how she pursued her dream to become a MuleSoft Developer and transitioned from an MSc in Physics and Medical Engineering in her blog.
- 'Meet the top Q4 MuleSoft Community contributors', MuleSoft, February 2021