COVID-19 has turned our lives upside down. Just a few weeks ago, companies had to quickly transition all employees to work remotely. As businesses and people are gradually adjusting to the new circumstances and realising the benefits of working from home, many predict that this operation model is here to stay far beyond the crisis.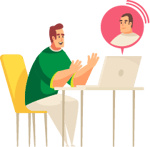 The remote work environment is not new to us. Several of our employees stayed with Infomentum even after they left the UK. Despite being miles away from the office, they remained an integral part of the company and their respective teams. Unfortunately, not all organisations had a transition to distance working as smooth and easy as ours. That's why we decided to share our experience and tips on how to set up, run and manage projects remotely. In a series of blogs, we will discuss how to manage people and software tools to deliver successful projects and get the best results despite being physically so far from each other.
Was the transition 100% perfect?
No! Although our whole business was up and running remotely within 24 hours on receiving the Government's directives, we weren't free of a handful of hiccups. A few people took laptops home, leaving the charging cable and headsets behind. Obviously, no one is without faults.
It's all about people.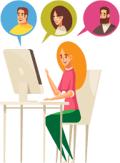 Technology is not the only aspect to determine the success of the remote working approach. We cannot stress enough; it's all about people! Your employees and their circumstances are unique, therefore every person in the company requires an individual approach. While for some working from home means less distraction and higher productivity, others feel lonely, isolated and struggling to find a perfect life-work balance. With schools' transition to distance learning, it is vital to give the working parents flexibility to juggle kids and work. Letting our employees tailor their working day has been much appreciated by many. Our Wellness champions have been very helpful in sharing advice on how to deal with the stress caused by isolation—taking regular breaks, lunch-time stretching exercises, listening to relaxing music. And to preserve the company spirit, connect with each other and to have fun, we organise weekly virtual tea/cocktail parties and quizzes.
Team communication and technology
How to effectively control teams and maintain the quality of communication between the team members, managers and customers when everyone is working from home? Modern technologies make it all possible and achievable. We cannot stress enough the importance of regular video calls. It's a great way not only to increase collaboration, speed up decision making and generally feel more engaged but also to fill in the gap in social communication. During the first week, while we were still adjusting, a few people complained that because of a large number of video conversations, there wasn't enough time left for actual work. Our lessons learned: avoid pointless calls, invite relevant people only, be deliberate about the purpose of your video call, prepare in advance and follow the agenda. There are many free and paid video conferencing software available on the market. We use Hangouts Meet, which is a part of the Google G Suite.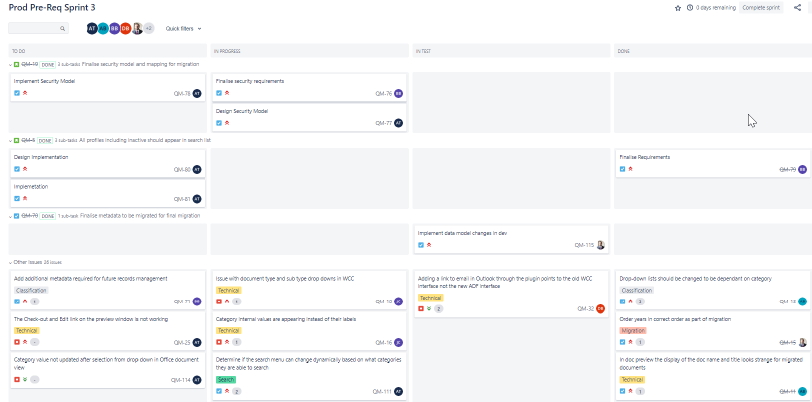 How we use Jira software to manage our agile projects
We have also been using many cloud-based collaboration tools like Slack, Jira and Confluence by Atlassian. Slack is perfect for day-to-day project-specific communication and messaging. Jira is not only our activity hub for managing and tracking agile projects. Our Operation and Sales teams have also successfully adapted Agile goals, principles and practices, and are using Jira software for their projects. Each department and team has a separate space in Confluence. This software is most suitable to store and share information relevant to the whole company, like our Intranet, reusable assets of knowledge and projects' user story specifications, solution designs, meeting notes, action and risks logs. The best thing is that all three tools are fully integrated with each other, which means no duplication of work and information is always correct and up-to-date.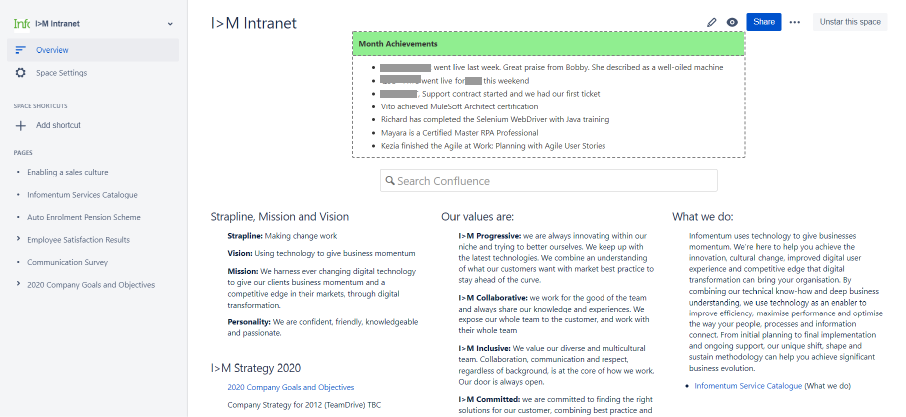 We use a space in Confluence as our Intranet.
In the next blog, we will dig deeper on how we use different software tools to run projects remotely. We will share tips and the best practices that will help you get the most out of these systems. Without a doubt, it takes time to adjust. Still, with the right tools (many of which are free) it is possible to manage isolated people and projects as efficiently as when we used to greet each other in the office every morning.
Stay tuned for more updates!