The Coronavirus pandemic has disrupted our everyday lives, both businesses and individuals are still adapting to the new reality. While the number of cases is still climbing, at times it feels like there is no end of the lockdown and crisis in sight. But it`s not all doom and gloom, we've also seen businesses and individuals come together to fight the virus, support and help each other in these difficult times.
Many organisations have had to make difficult decisions, reduce the number of staff and operate with a limited team in the new to many remote working environments. This is understandable when the primary goal is to keep business afloat, but for those in a stable situation, it's worth keeping in mind that crisis will pass and organisations just can't afford to stay behind!
How can we make the best out of this, for some businesses quieter, time to improve their operations: increase efficiency, improve processes and gain a better use of their data? These aspects will enable the business to run more smoothly and efficiently now and after the crisis.
At Infomentum we thought of how we can help organisations navigate their way through the crisis and come back strong and decided to share our experience, both of what we have implemented and what some of our customers are doing during this time.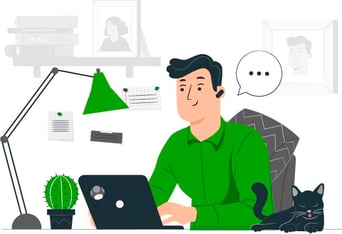 Remote working: First things first, empower your team to work remotely with a secure access to all relevant systems and information. After a quick and smooth transition, we are now confidently running all our projects remotely. The agile methodology is excellent as it keeps all members of the team up to date via the daily virtual stand-ups, therefore we can continue with our projects as smoothly as we did prior to the crisis. We will be posting further tips on how to run projects remotely in a series of blogs.
Communication and support: We are in touch with our customers more regularly than ever to both provide updates from our side and hear how their organisation is doing. At Infomentum we are very flexible and have offered additional support to some of our customers who were struggling with their whole team transitioning to remote working. We also offer co-managed service, so if your support team needs an extra pair of hands, contact us today.
Automation: There has been more demand for RPA and no wonder, with reduced teams and a high volume of manual and repetitive processes organisations can see first results very quickly. Automation can increase the efficiency of your organisation not only during but also after the crisis. When your employees are back to work RPA will enable them to spend less time on repetitive tasks and as a result, provide a better customer experience.
Integration: Even though a lot of organisations might not have the time and budget to invest in a large integration programme, most of our customers haven't put any running programmes on hold. Mainly because the value and benefits of these initiatives have been outstanding. If you are looking to improve processes' efficiency, enhance customer experience and the quality of data on your systems, we have created a special API-led integration framework. You will have a solid foundation to build your APIs in less than 30 days and, no doubt, the impressive results will follow.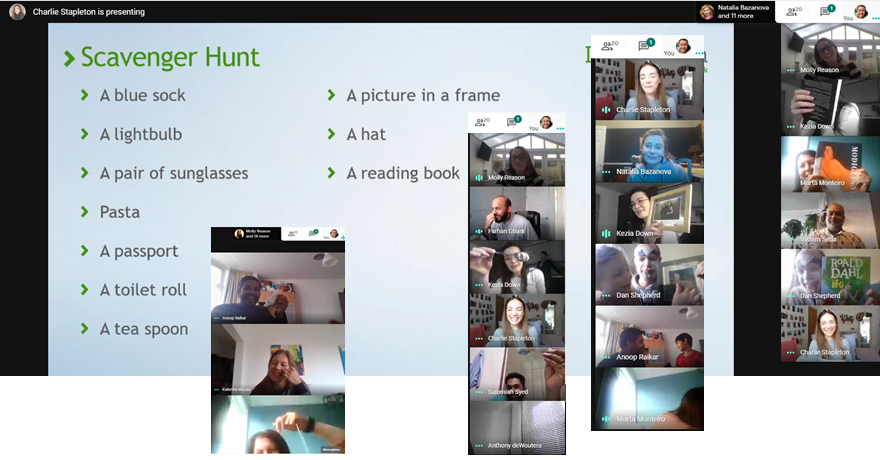 Infomentum Quarter End Quiz - Scavenger Hunt
Have fun with your team: Looking after our people and keeping a sense of unity and morale high has always been a part of our culture. As a part of the Wellness initiative, we run events, meetings, challenges and other activities to promote emotional, physical and social health. We've recently released a very powerful Mental Health Awareness video. To catch up with our colleagues over a cuppa or a glass of wine, we organise weekly virtual tea/cocktail parties. Last week we tried something a little bit different - a virtual quiz, which included both questions and a scavenger hunt. Adults and kids had great fun running around looking for blue socks and toilet rolls! These social events bring the company together and keep our spirits high!
What are you doing to survive the crisis? Share your tips with us! If there is anything we can help you with, give us a call on 0203 743 8014 or contact us via email.