The quality of communication within a project team is often the most important aspect in the successful delivery of any project. Since our switch to remote working at the start of the pandemic, we've been faced with the challenge of using our project management tools in different ways to ensure that the quality of our communication and collaboration doesn't suffer.
Read more about our transition and the importance of communication in the previous blog 'Managing projects with remote teams: our transition & lessons learned'. This blog explains how we continue to communicate within the teams and to our customers to move our projects forward.
Start with the right tools
Before the COVID-19 crisis emerged, our delivery teams were already using a suite of applications (Slack, JIRA, Miro and Confluence) for general and project-specific communications. As all of these tools are cloud-based, our teams were able to continue using them remotely with no disruption. What has evolved significantly since the transition is the role of these channels. Slack, in particular, has become a much more important tool for us, serving as a platform for all of our project meetings.
We create a separate channel for each project to ensure that communication in that space is easy to find and relevant for all participants. We use the Slack channels not only for instant messaging but also as the virtual meeting room for each set piece in our Scrum delivery model. Before the lockdown, project managers would often use a bullseye scrum board, or present information on one of the walls and use whiteboarding to brainstorm ideas. We found that screen sharing through Slack has given our teams a great alternative by allowing to quickly sketch solutions and annotate delivery specifications when required.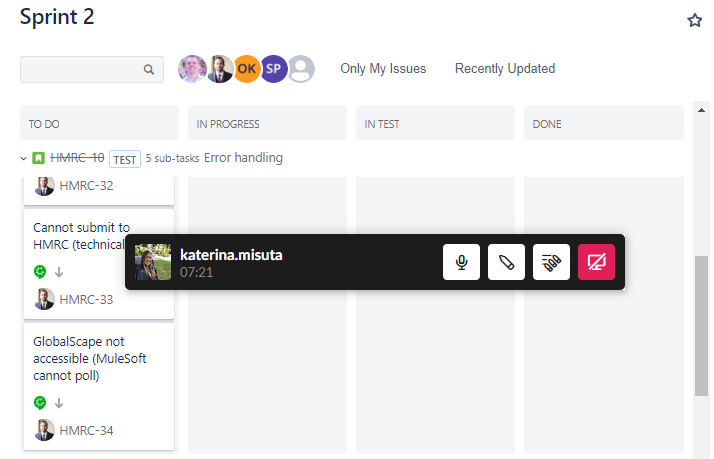 Screen sharing during a project planning meeting held on Slack
We've been using Slack calls to facilitate:
Backlog reviews
Sprint planning
Daily standups
Sprint reviews
Sprint retrospectives.
The conference calls held on Slack allow us to run these meetings in conjunction with our standard delivery toolset of JIRA, Confluence and Miro.
Integrate your toolset
Outside of these set-piece events we've integrated other apps, for example, our project management tool JIRA, to make Slack our communications hub. All project updates we make on JIRA are published directly into the Slack channel, which ensures that everyone is up to date with the developments. If you are using Slack, we highly recommend checking out the integrations that are already available in the marketplace!

Slack integration with Jira
Another reason why we picked Slack as our main communication hub is that it also enables us to collaborate well with individuals outside of the organisation. Our project managers regularly use it to contact customers and partners to quickly clear up project questions and remove blockers.
We've also quickly established some rules of thumb to make Slack work more effectively for us within the organisation. To keep information flowing and easily accessible we make sure that all project-related questions are posted in a specific channel with private 1:1 discussion kept to a minimum. Of course, it`s not all work and no play – we've recognised how important it is to check on wellbeing and reassure one another during these difficult and uncertain times. We've had fun staff channels before the remote working kicked in to share funny videos, memes and interesting articles with each other, and they now as popular as ever during the lockdown. This not just cheers everyone up a bit but also brings a sense of normality to our virtual conversations.
Set your status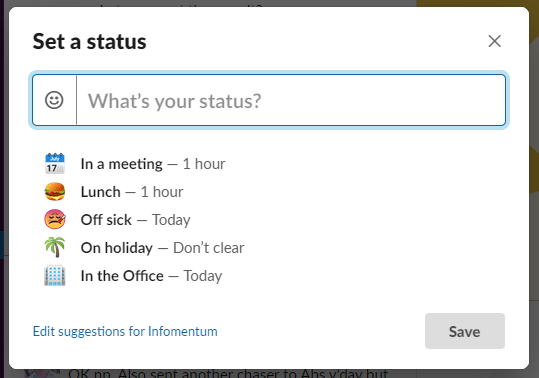 Status options on Slack
We've also quickly realised that setting a status in Slack is a small but important step; now that we can't see each other in the office, letting our colleagues know when we are in a meeting, on a call or having a lunch break helps everyone. It`s especially important as many of our employees are working flexibly to look after their kids and fulfill other responsibilities they may have during this time. To ensure the teamwork and progress of the project doesn't suffer we need to ensure that others in the team are aware of our availability throughout the day.
It`s also perfectly fine to set a "do not disturb" status and pause Slack notifications for some time, for example when you need to focus on a more detailed piece of work, as long as others are aware of your status.
Turn your video on
Body language and facial expressions play an important role in the quality of our communication, yet these cues are invisible on many conference calls. When calls are the only means of communication, video is the next best thing to physically being in the same room. It makes the nonverbal cues visible, which helps us to communicate better. Not everyone is comfortable turning the video on, but at Infomentum we`ve started encouraging all our team members to turn on their video for every call. It makes for much more meaningful and personal conversations!
Can we use Slack for everything?
Perhaps most importantly we've recognised that although an increased volume of conversations is now taking place in our Slack channels, it can give a false sense of security when it comes to tracking what has been discussed and decided. Significant decisions or changes in approach will still need to be recorded more formally in an email, a user story specification in JIRA or a project decision log in Confluence.
So far our move to remote working hasn't stopped us from having the sharp and focused conversations we need with each other at Infomentum and with our customers. In a short space of time, we've capitalised on our agile ways of working, our cloud-based toolset, our portable hardware and, most importantly, our willingness to adapt and try new approaches to keep moving our projects forward.
We`ll continue with our remote project management tips in our next blog where we will be discussing remote sprint planning and how to always deliver on your sprint goals. Stay tuned, but in the meantime, if you have any questions on remote project delivery or have tips you would like to share with us, please don't hesitate to reach out.