"Your most unhappy customers are the greatest source of learning."
quote from a wise Customer Service Manager
Which type of customer are you?
Imagine you receive an email with the subject "Customer Satisfaction Survey". How does it make you feel? How do you respond?
- "I hate Customer Satisfaction Surveys. Nothing will come of it anyway."
- "Oh nice, let me fill it out so that the company can see what is going well and what isn't. It will help improve the service I receive."
- "It's not important. I will deal with it later." And forget about it.
All too often, we ignore these types of requests because we either see it as time-wasting or other activities take priority. And this is unfortunate, because our feedback does matter greatly to service providers.
For our co-managed services team, surveys are a vital source of information. The more responses we get, the better the insights and understanding of how our customers really feel about our services. Over the years, we tested different approaches from static Excel questionnaires to online tools, played around with the complexity and length of our surveys. We tried to find "the ideal survey" that would work best for our clients and us. And today we are happy to share our experience.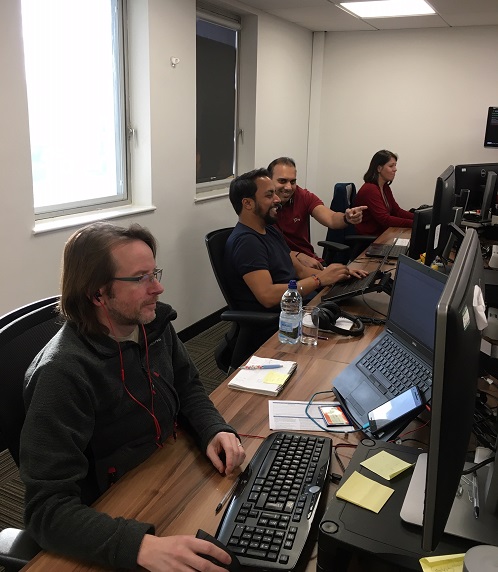 Our support team at work
If you are still debating how to get your customers to respond to surveys, here are a few tips.
Having a strong foundation with your customers, providing an exceptional service with clear/concise communication will increase the likelihood of your customers responding to the survey and reciprocate.
Educate your customers as to why surveys are critical for information gathering. Unfortunately, some service providers fail to consider the importance of delivering continuous service improvement.
Provide examples as to how customer feedback has shaped and enhanced the existing service. Show the recipients that their feedback can have a positive impact.
Keep the surveys short, to the point and relevant. Questionnaires with a clean, intuitive, well-designed user interface will make the process more streamlined for the customer.
The timings, when you email the surveys, could have a significant impact as to when and whether you will receive a reply. Avoid sending feedback requests first thing on Monday mornings for apparent reasons. Try and test to see what timing works best for your business.
How to create an excellent survey?
Depending on what information you want to collect put together a few questions using rating scales, yes/no or open-end answers. It can be as short as "From 1-5 how do you rate the service provided by X" to more specific questions regarding the service such as:
How satisfied are you with the way the team handle
Communication
Speed of response
Quality of the solution
Understanding the impact on your business

How do you measure customer feedback?
You've received the results, now what would be the best way to make sense of it? There are two "industry standard" feedback metrics:
CSAT (Customer Satisfaction Score) is used to measure short term customer loyalty. CSAT scores are collected by asking customers to rate services on a scale of 1 to 10.

NPS (Net Promoter or Net Promoter Score) is used to evaluate long term customer loyalty. To measure NPS you group the responses as Promoters, Passives and Detractors, and then subtract the percentage of Detractors from the percentage of Promoters. The result is a score between -100 (every customer is a Detractors) to 100 (every customer is a Promoter).

Are these metrics enough?
By continuously measuring the survey results, you will be able to evaluate the effectiveness of new process changes, product features and the services overall. Make sure you select the right metrics that are vital to the success of your business, product or service.
To measure long term success, we used to send an NPS centric Customer Satisfaction Survey twice a year. After a while though, we realised that this approach wasn't providing us with enough information to evaluate day-to-day satisfaction levels. So we introduced the "satisfaction per support ticket" metric to give us much more specific data per ticket and per team member. This type of information provides us with more granular insights into how we can improve our support services. The best approach is to use a combination of surveys as it gives the best of both worlds, the more generic CSAT and a very specific and immediate satisfaction rate "per support ticket".
Let us not forget about another important benefit of the surveys. What could be more encouraging for the staff than positive feedback? When our support team receives excellent reviews from our customers, we always share them with the rest of the employees. Great feedback always puts a smile on our faces and makes the survey process event more worth it!
Here are just a few of our customers' most recent quotes:
"X" is a genius, thank you for always being helpful
Actioned very promptly. Many thanks!
Quickly resolved, friendly service. Thank you!
As ever, superb service!
Brilliant customer experience. Even in our error, the team were understanding, and the response was super-fast.
The next time you receive a Satisfaction Survey request, don't just ignore it. Filling in the form takes only 3-5 minutes; however, the information you provide is invaluable. It helps service providers improve and deliver even better services!