Today I was greeted by a happy grin on Dan's face, Dan Shepherd is our Head of Delivery. He and his team had a reason to smile - in one day they received fantastic feedback from several of our customers.
Their positive comments not only remind us of how important our contribution is to their success but help us to improve the quality of our services further. One of the emails was sent from BAE Systems - a long-term customer of ours. Following a successfully delivered solution, Dean Clarke, the Head of Group Digital from BAE Systems, wrote:
"I just wanted to drop you a quick note to say thank you so much for all of your hard work and determination on getting our new homepage over the line in time for the show. The feedback has been 100% positive and everyone stops me to say what a massive jump forward it is. It really makes us look more like the tech-led company we want to be seen as.

You all did a great job, thank you."
- Dean Clarke, Head of Group Digital Communications, Brand and Creative, BAE Systems plc
Our Application & Infrastructure Support Services team, which always goes above and beyond to keep their customers satisfied, had a reason for celebration. Happy customers had commented on their excellent work and commitment, praised them for their quick response times, their exceptional customer service and for going the extra mile to complete the job outside of office hours. Paola Fulchignoni, our Head of Managed Services, proudly noted a few of the comments received this month: "Support is always very good. Absolutely no complaints. The team do a great job." "5 stars - fixed immediately! Thank you".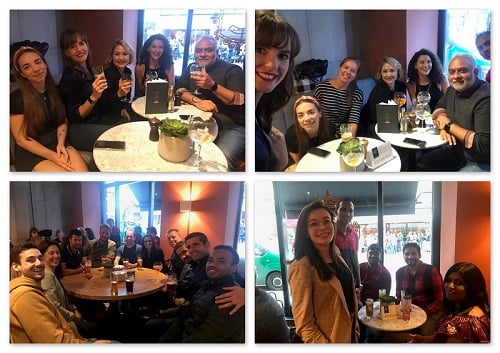 "I'd also like to express my sincere thanks to everyone involved in responding and tackling this issue so speedily, diligently and effectively. You have all been life-savers (!) and I will proceed to update our trustees and member representatives. Once again, thank you."
- Managed services customer.
This success wouldn't be possible without the support of the whole company and every employee. And what is the better way to celebrate our accomplishments, big or small, than getting together for a fun evening with a few drinks and snacks? Our people are our biggest asset, and we are delighted to receive great reviews as a testament to their hard work, dedication and expertise.
Read how we help our customers to achieve success with our 3S customer engagement framework.
If you are looking for a trusted advisor to assist with your digital journey, please do not hesitate to reach out to us on: +44 (0)203 743 8014 or info@infomentum.co.uk.