The last few months have been challenging for most Sales teams, and ours has been no exception. The uncertainty of the economic climate has led many businesses to hibernate. In the space of a couple of weeks, the market went quiet; projects were put on hold, budgets cut.
You could say that there is always uncertainty in sales; there are no guarantees. You often work hard on a deal and so confidant that you would close it, and then it just slips last minute. It can be genuinely disheartening, but it's a standard sales process! When the crisis unfolded, my whole pipeline got disrupted. What do you do? How do you acquire customers and continue selling during and after the crisis?
The first weeks were the hardest as individuals were still adjusting to remote working. For us at Infomentum, working from home wasn't an issue, the Sales team regularly works from locations outside of the office – home, vendors offices or coffee shops. But as lockdown meant that we were suddenly stuck at home juggling work and personal commitments - it was unusual. Everyone was in the same boat though, and like everyone else, we had to adjust. Prospecting was the hardest part of the role; individuals were reluctant to answer their phone or accept meetings. Reflecting on this now, I understand that during that initial stage, not many companies had a clear strategy on how they would be responding to the crisis and I can see why individuals were hesitant to speak to their SI and partners at the time.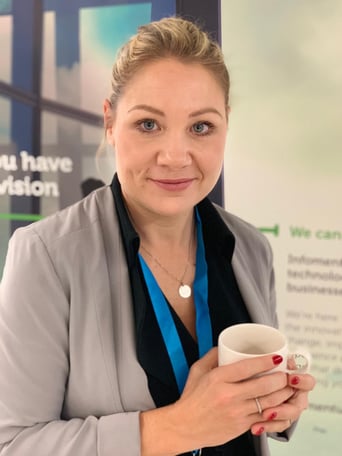 I've been missing the face to face conversations over coffee.
Once we passed the first month of the lockdown things started brightening up. Individuals adjusted to the new workplace environment, and businesses gradually woke up from hibernation. It became clear that the UK economy would not bounce back immediately, and recession would be affecting the markets for months to come.
The question remains, how do we sell during a crisis?
Many were saying it's not the time for a hard sell, which I agree with, but it's also not the time to give up and wait for the lockdown to be over. After the quiet first 3-4 weeks, the last 2 months have been hectic for our team, and here I've compiled what helped me the most during this time:
Use video for your customer calls – It might feel like it's no substitute for meeting your client or prospect face to face, but seeing as this isn't an option we found that using video during our customer meetings has really aided relationship building. Some people we speak to are reluctant to turn their video on, but we always have ours on, and often the person on the other side of the screen will cave and reciprocate. We find conversations are more relaxed and personal this way. Something you never get to see during usual meetings is a person's home, which can also tell a lot about them and help build a better relationship. I also find that during conference calls, it's much easier to seamlessly switch between a conversation and a demo or a presentation, which also helps us bring our sales pitch to life.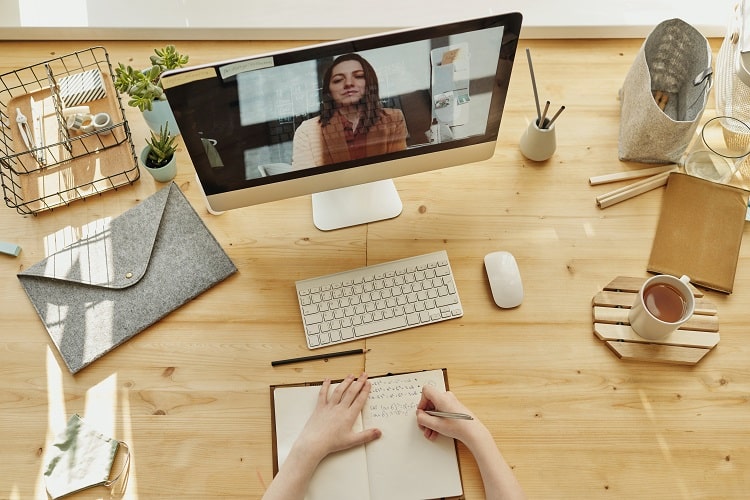 Communicate with video when possible
Use data to benchmark – Were we responding to the crisis effectively? How do we stack up against the competition or even other businesses of a similar size? This is what I found especially challenging at the beginning of lockdown. That's where HubSpot Insight really hit the spot, offering us useful benchmarking data. What we found out was reassuring, showing that many businesses of a similar size were having a very similar experience to ours.
Communicate with your team – This is not a new one, and it doesn't depend on whether you are working from home or in the office, but this is not one to miss. Our team members are facing so many challenges – having to unexpectedly marry home and work, facing obstacles in their roles like budget freezes and cuts as well as global uncertainty. This is why as the Head of Sales, it is essential for me to touch base with my team regularly to support them when needed. We find that daily stand-up meetings and more extended monthly meetings work best, giving us a good mix of regular communication.
Productivity – I feel that I have been prioritising better, perhaps this is due to the increased pressure on the Sales team to support the business in this difficult time. But I find that keeping the 80/20 rule in mind is so important, focus on that 20%, prioritise these activities every day and results will come. I've also noticed that I'm more productive when working from home, internal meetings are much shorter. During some meetings, we will take a little more time to be more social and catch up, but also there is no need to wait for everyone to get together, as everyone is more punctual for conference calls.
Use the time wisely – Even though we didn't use the advice on this occasion, you might find it useful to use this time to reassess your internal processes, clean up your CRM, research new opportunities, things you don't find time for when your phone and email won't stop. You'll be ready to bounce back in no time when your industry picks up!
It has been an adjustment curve, but I'm delighted with how our team has managed it. Please share your stories with us! What did you find the most challenging and what helped you during this time?