London, 30 March 2017
Oracle has awarded Infomentum the Platform as a Service Partner of the Year award at the 2017 UK & Ireland Partner of the Year Awards.
An Oracle Platinum Partner, Infomentum was presented with the awards at Wednesday's prestigious ceremony at the Sheraton Grand Park Lane Hotel London. The award recognised Infomentum's excellence in delivering transformational projects which implemented Platform as a Service products, allowing their customers to improve both the employee and the customer experience.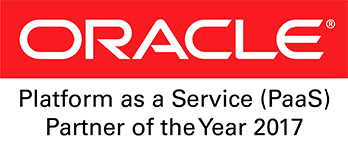 Oracle commended Infomentum on the success of its PaaS projects, its well-thought-out marketing campaigns and the innovative approach of Infomentum's Digital Engagement Framework to help customers accelerate their digital transformation.
"It's fantastic to see our achievements celebrated. We had some stiff competition for this award, so I'm very proud of our staff and the successful digital transformation work that we deliver for our customers."

- Vikram Setia, Partner and Chief Commercial Officer
"Infomentum has demonstrated an outstanding level of innovation in delivering proven, Oracle-based solutions that solve our joint customers' most critical business challenges," said Simon Hill, Head of UKI Alliances & Channels. "We congratulate Infomentum in achieving the 2017 UK & Ireland Partner of the Year Awards in PaaS. This achievement is a testament to its dedication to excellence and to providing customers solutions and services that drive real business value and results."
The trophy has taken pride of place in Infomentum's office.