Generation C is not a group defined by their age; they are defined by their attitudes, behaviour, shared interests and constantly connected digital lifestyle.
It's easy to forget than whilst it's essential to engage Gen C as the consumer, giving them a rich and fulfilling online experience, your employees are just as likely to represent Gen C. How are you catering for Generation C in the workplace?
So how do they behave at work?
Because of their desire to be collaborative and their community orientated outlook, Generation C appear to be good problem solvers. If they don't know the answer to something, they are far more likely to approach an online forum or community for helps and answers. What's more, they understand how to perform more complex searches on search engines and internal systems. This is an invaluable asset to any business, as Gen C respondents of the survey were far more likely to describe themselves as inventive, 'continually coming up with new ideas and different ways of approaching problems'. Encouragingly for employers, the study also found a positive correlation between being a part of Generation C and being driven at work. Gen C appear to want to go the extra mile to help the organisation succeed.
But they're not being fully accommodated for at work
Despite their positive effect on businesses, it appears as though Generation C are not being catered for
in the workplace; over half of respondents said that their IT systems at work are only ever updated occasionally, and many complained of outdated and slow systems.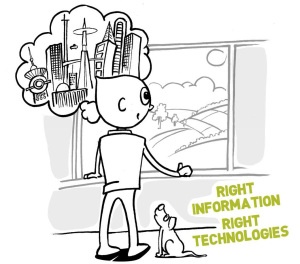 One of their biggest bug bears at work is wasting time looking for lost documents. On average, they spend up to an hour a day searching for these documents, and 20% even said they waste additional time having to recreate these documents when they couldn't be located.
Shockingly, this wasted time is costing British businesses up to a staggering £15 billion per year.
But it's not just easy access to documents that Generation C wants; they also value the ability to work flexibly and using the technology of their choosing. This means not only do they need easy access to documents, they want to be able to access documents on the go and from the device of their choosing.
Generation C aren't just your customers; they're your employees too. What are you doing to engage them?
Download the full report, 'Generating Success with Generation C' to read more on satisfying Gen C employees.