If you read my last blog post on May's MuleSoft Summit, you'll remember that I told you I got a sneak peek at MuleSoft's roadmap.
Well, that functionality has now been released.
On July 29th, MuleSoft's Crowd release went live. It seemed like a long wait, but it was finally time to put my hands on the new Anypoint Exchange 2.0 and the completely new component, Design Center. Now that I've had a few days to take a look around at all of the new functionality, I'm rounding up my highlights below.
Anypoint Exchange 2.0
As soon as I logged in, I was impressed at how much has been changed. Exchange 2.0 is equipped with a brand new UI and fully integrated with Anypoint platform. And this is a major release; MuleSoft has included capabilities for easy publishing and consumption of API specs, advanced search, collaboration and commenting, and analytics.
Let's start by talking about the new graphical layout; it's smoother, clearer and, in my opinion, all of the graphical elements on the page are much better organised. It's now easier to switch between the private assets only view and MuleSoft public assets view - and the new menu to filter the content also makes more sense now.
Entering a published asset, I can see than there's been big improvements on how to engage with users and/or consumers. There's a new section where a user can leave a review and assign stars (from 1 to 5) to demonstrate their level of satisfaction. But also new features like the 'share' option, to share the asset with another user within the same organisation, and the 'download as Mule' plugin, to download an API spec as a plugin to be imported directly in Anypoint Studio. The 'tags' section also deserves to be mentioned - it can be used to attach tags to the asset in order to improve the research by users.
The new interface also allows users to upload documents, like architecture blueprints or design documents for example. It's a much more intuitive experience which helps users find the right asset quickly or collaborate easily. Exchange 2.0 has also come up with incentive schemes to encourage collaboration, like the ability to set KPIs and measure the success of APIs by checking how many assets are created, how many of them are reused and its frequency and so on.
Overall, I think this release is really geared up to increase collaboration between central IT and line of business. Building application networks should be easier than ever!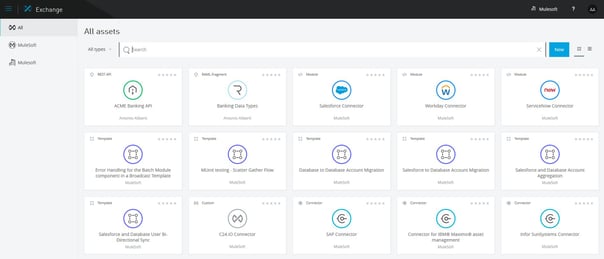 Design Center
This is what I was really waiting for. The Design Center is the new component of Anypoint Platform which is comprised of a new version of API Designer, and also introduces the completely new Flow Designer. It means that designers and developers now have a unique place to design and build APIs.
I have to say that I didn't spend much time with the Flow Designer as I did with the new API Designer, but it was enough to say:
it's quite intuitive, user friendly and provides a guided flow design experience;

it's fast and reactive - only a few message processors and connectors are available;

it can replace Anypoint Studio for easy and medium complexity applications.

it can promote applications to different environments.

it helps users to get the live view of input and output data as the flow is triggered.
The only thing that hasn't really convinced me is the colours used; there's a massive use of grey scale in the user interface for the components and the popup windows. I'd prefer a more colourful UI - otherwise things seem to blend together a bit too much.
The new API Designer also had big improvements; first of all, a completely new skin in terms of user interface, with a new shelf on the bottom which has been better organised to host the "hints", and the new API Console incorporated on the right hand side. But that's not all. Two new functionalities have been added:
Integration with Exchange: it's now possible to import and publish assets from/to Exchange directly in the API Designer;

Code Versioning: in order to preserve the old versions of an API, "branches mechanism" has been introduced, which can be used to save old versions of API specifications.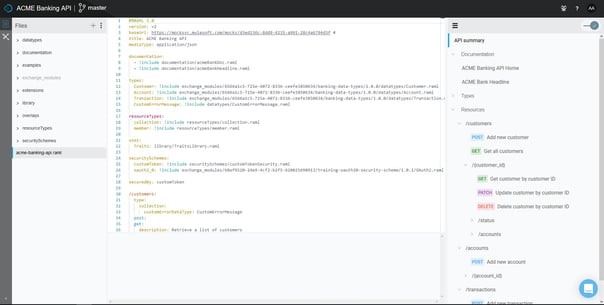 So, to conclude, there will be a lot of fun for me in the next days exploring other new functionalities and trying to build an application using only the Design Center.
But, hey, stay tuned. This is only the first part of Crowd release. By the end of Q3, a second part will released and we'll see which new functionalities and components will be available. Did somebody say API portals??