Are you in the middle of working out your integration strategy and selecting a suitable platform? It's a serious and long-term commitment, so wouldn't it be great to test a chosen platform first? Validate it by building fully-functioning API integrations for your specific use case?
Our one-day hackathons were designed to give you and your team exactly that - a taste of the MuleSoft Anypoint integration platform and its capabilities. After completing this highly effective exercise, you'll not only have a working API but also obtain information to make informed and de-risked decisions about your API-led strategy. What does "hackathon" mean? You might think it has something to do with cybercrime - a breach into computers to steal private or sensitive data. Wrong!

Hackathons are intense but fun-filled events. Individuals from different teams come together, which often generates new ideas and unique solution for the organisation. According to an online magazine Medium: "Notable examples (of hackathons) include the Facebook "Like" button and Facebook Chat which were both first demoed at internal company hackathons."

Benefits of hackathons
We organise MuleSoft Hackathons for companies that want to experience a full end-to-end MuleSoft API lifecycle for their specific business use cases. It's a perfect opportunity for testing and validating the MuleSoft Anypoint integration platform and its components.
You would be surprised how much our customers manage to achieve in only 8 hours:
Get introduction into the API-led connectivity concept and the MuleSoft Anypont Integration platform.
Gain hands-on experience to trial the platform
Evaluate some of the platform assets and connectors
Experiences 'an espresso shot' of collaboration and innovation
By the end of the day, build fully-functioning API-led connectivity between selected systems.
Earlier this year, we made a switch to a virtual format with even greater success. Surprised? Remote events allow for greater flexibility and attract more participants. Even people, who would usually give it a miss, attend online hackathons to tune in for a specific topic.
What happens on the day of our hackathon
Before the hackathon, we discuss with the customer what use cases (one or two) they would like to validate. We also review the details of the proposed integration design and systems involved.
Each hackathon is unique and requires a couple of days of careful preparation on our side. Sometimes, the customer is also involved by providing access to the systems to be integrated and helping resolve any connectivity issues. When everything is ready, we share with the customer the API-led overview of what we set out to achieve during the hackathon. It's essential to validate our understanding and set the scene for the big day.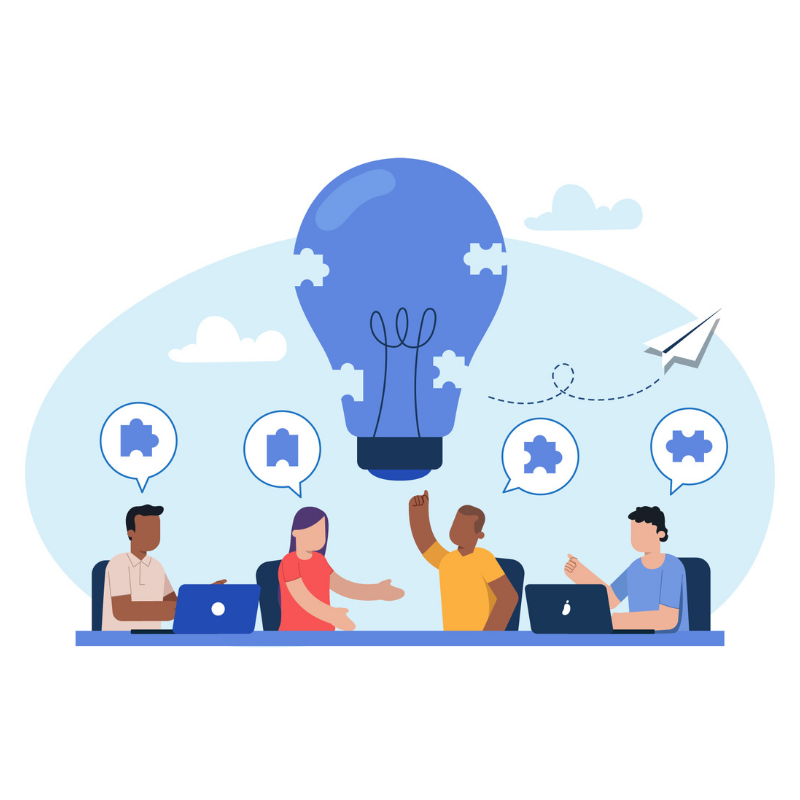 Hackathons encourage cross team collaboration
The day of a hackathon consists of two main parts. We start with an overview of the API-led connectivity and its benefits. We also provide a demo-style introduction into the MuleSoft Anypoint Integration Platform. The intro part helps the team get a flavour of the platform components and understand how they work.
After lunch, the excitement starts! The participants, led by our experts, walk through a series of prepared labs. Although exercises are very hands-on, the attendees do not require any MuleSoft experience. Furthermore, quite often, they are not even technical specialists. Business stakeholders play a crucial role in developing and executing a successful API strategy. Everyone is welcome to take part in the MuleSoft hackathon!
During the labs, the participants follow a detailed and easy to follow set of steps. Their goal is to build fully-functioning API integrations for the specific use cases. Our lead consultants are always there to help, guide and answer any questions.
At the end of the day, the teams review what they have learnt and achieved and share feedback on the whole experience. Undoubtedly, it's a very intense but rewarding day!
"When hackathons are over, everyone is buzzing with excitement. Many couldn't believe how fast the platform enables to unlock data from different systems, unify it into processes and deliver the desired experience. Furthermore, the participants start discussing how re-using the new APIs across the organisation can accelerate future projects delivery.
There is so much energy in these events!"
- Alessandro Toscano, Solution Architect, Infomentum
Common use cases validated during hackathons
Hackathons benefit both hosts and participants. While preparing for hackathons and working on our customers' business use cases, we've discovered that many have similar challenges and goals.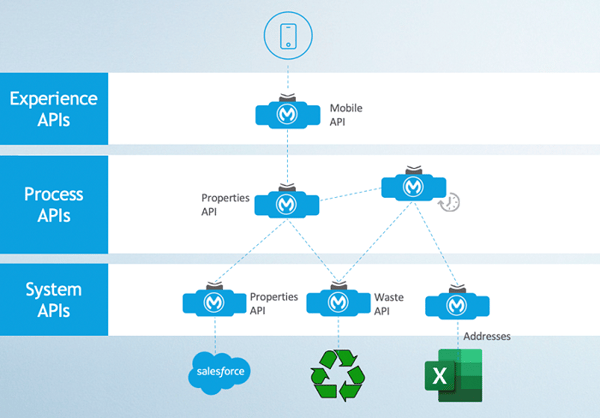 An example of API-led integrations diagram
Let's take an example of integrating Salesforce CRM with different sources that hold users or clients information. This data must be extracted from text files, spreadsheets or databases and then be transformed into a user-friendly structure. The processed data should then be loaded into Salesforce CRM. For each record, the process should fetch some additional information from another system and also load it into Salesforce. For example, retrieve a person's address data from various sources and merge it with waste collection information. Many local councils require re-usable APIs that can be consumed by multiple sources without the need to reinvent the wheel every time!
Are you ready to run a hackathon?
Hackathons generate tremendous amounts of value for the participants and provide an excellent opportunity for rapid innovation development. During one day, your team will brainstorm, develop, test, and launch ready-to-use prototypes. These pilots can be later expanded to full-scale services or products.
Are you considering an API-led approach to integration? Would you like to get hands-on experience of the MuleSoft Anypoint integration platform and test its suitability for your use cases? Use our template to describe your selected use cases, requirements, the systems and data flow. We'll validate your case, prepare the agenda and organise your free 1-day Hackathon.