One of the things I love about MuleSoft (aside from the cool tech) is how they engage their partner network. From the big Systems Integrators and the more boutique players like Infomentum, everyone gets involved! In March, there was no time for opposition (although still a fair bit of competition) as the Partner network came together to raise money for charities aiming to end Child Poverty.
In a year when the Charity sector was hit so hard, it's fantastic that we raised more than £14k for Fareshare, Food Aid Network and Trussell Trust!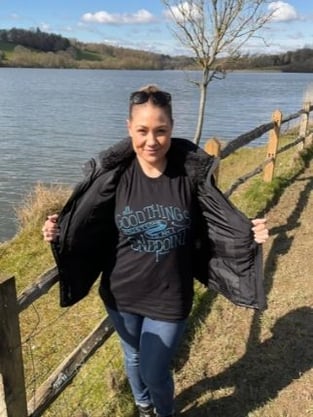 Our Head of Sales Alecia wears a MuleSoft t-shirt to keep the motivation high
A big Kudos goes to Salesforce for doubling the £7K raised by the teams! Peter Tandy, Julia Malahovska and Jemima Dickinson all deserve mention and a big "thank you" for organising and cajoling all of us Mules through the 30 days of walking, cycling, and running. When is the next one, guys?!
The event itself was right up my street! What else is there to do during lockdown than be as active as possible to raise money for a good cause? 8 Infomentum team members were split across three different teams, joined by a few Muleys. To keep us motivated we had leader-board updates sent to us weekly!
Across the 30 or so teams, we marched more than 25,000km! Congrats must go to "Deloitted to be Muleys" for coming top of the pile at the end of the challenge. You guys were a tough nut to crack, although my team Mulementum were a close second place. According to my Strava monthly stats, I managed 650 miles during the month in 82 hrs of activity! It was a hectic month, so kicking back on April 1st felt pretty good!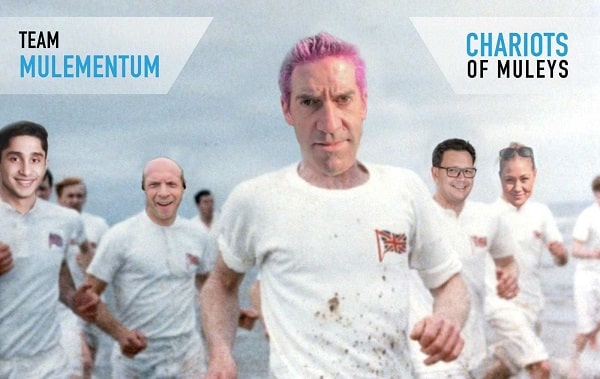 Team Mulementum poster for March with the Mules final
It was not 100% about the exercise; bonus points were awarded throughout the month for the best photo according to that week's theme. My "Best Dressed" effort involved a 20-mile bike ride in a full tuxedo (and yes, I got many strange looks along the route), and of course, our photo finale "Chariots of Muleys" showcased that team spirit we had shown through the month. Bonus points which all contributed to our final total.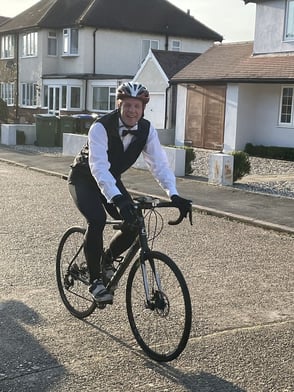 Our COO Dan found an excuse to wear a tuxedo
Looking ahead to the rest of the year, March has taught us the value of strong partnerships. I will not be as focused on that Strava leader board every day, but I will look forward to that next Partner Event where we can hopefully meet face to face and chat about the collective difference we made for an important cause. Something we should and will do again!
For those feeling inspired to add to our already impressive total, it is still possible to contribute to the cause via the below link: