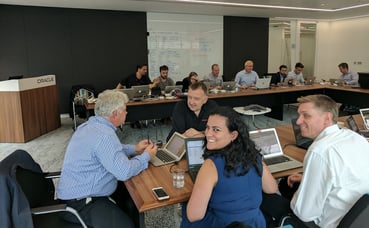 Recently, I was one of the lucky few that were handpicked to attend Oracle's partner training on Intelligent Bot in London - and that meant I got hands-on experience with the product and witnessed its glory in action! The product is called Intelligent Bot and it would be available as part of the Mobile Cloud Service (MCS) suite as it complements other features of that product - not to mention that it fits the product the most. The aim is to provide an easy way to create Chatbot applications in simple steps, and provide options for Intent Recognition - i.e. understanding what the Chatbot's end user means - and custom entities to be able to take actions and drive the conversation towards whatever developers see fit.
The hands on sessions were given by two Oracle Gurus, Grant Ronald and Frank Nimphius, in which they discussed the different aspects of the development process and how to fit everything together. The hands on experience was on point, and I personally found no problem navigating through the product and understanding it.
Oracle's vision is to put the power in your hands, and give you the flexibility to control how do you want to orchestrate the bot behaviour. That's why it fits so well with MCS - since other MCS functionalities give you all the tools you need to get ready in a short space of time - and provides even greater means for security and extendability.
While the product has great features and a lot of flexibility, it's still in its infancy, and requires a lot of improvements in certain areas. That said, with the pace that the product is evolving, I'm betting that this product is going to grow into a good thing in little to no time.
Overall, it was a great training, and it was nice to see that Oracle is providing this hands-on training to help its partners move forward with various technologies.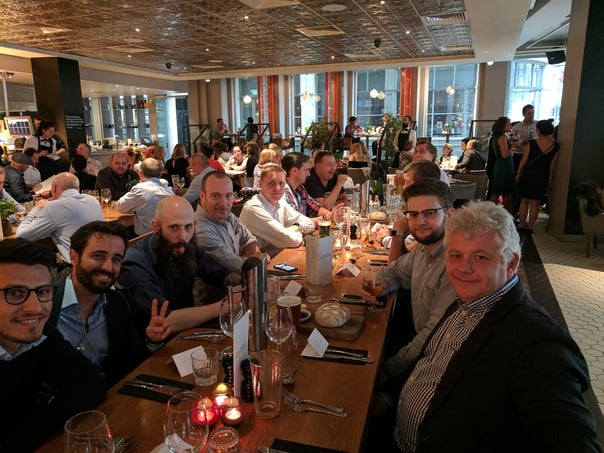 The team enjoying a well-deserved bite to eat after the training!