At Infomentum, we love to share. We do it daily with our clients through close collaboration with their development teams, training sessions, Agile sprints and support calls, etc. Our team members also share by regularly organising charitable events and donation initiatives. On this occasion, we had a chance to give something a little different – share our knowledge and experience of Agile methodology.
As our customers will know, Infomentum live and breathe Agile, most of our business runs on sprints, with stand-ups happening daily in our office. Agile is not just how we run customer projects and programs, our internal teams have adopted it with great success (read how our Operations team uses Agile methodology in Charlie's blog).
When we had a chance to share our experience with Dorothy House Hospice Care, we jumped at the opportunity. Dorothy House, a charity in the southwest of England, provides free care to patients, families and their carers at a time when it's needed most, reaching a population of over 550,000.
The support of Infomentum to our charity has been remarkable. From the moment I arrived at their office, they were hospitable and enthusiastic. We have been incredibly touched by their desire to give back to the community and support our local charity.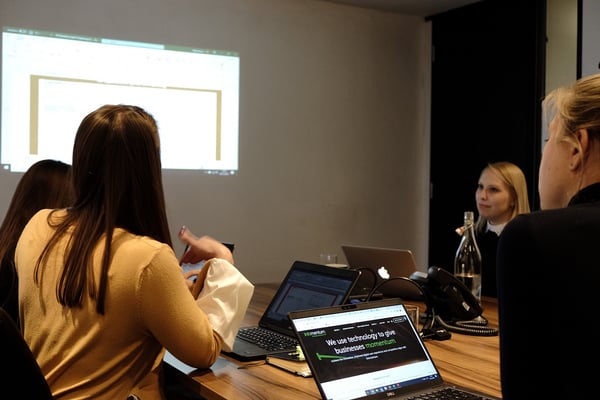 Infomentum operations team giving a live demo of their Agile sprint planning
We had the pleasure to welcome Hollie Gale into Infomentum HQ for a deep dive into the Agile methodology. Hollie is part of the Dorothy House Communications Team and, in her role, enables teams across the Hospice to communicate internally and externally. We talked to Hollie about the drivers to adopting Agile and her experience of the day in our office.
"To meet the growing need for palliative and end-of-life care, with greater demand on resources (given the ageing population and less public money available), we must find new, creative ways of working to manage our unrelenting workload.
We have been looking for a robust way of working that won't add to the administrate pressures or leave gaps that require additional support from secondary platforms. We need a planned but reactive format so that we can prioritise and be flexible in an environment where no two hours are the same! And we need a method that puts people first, in the same way, that we put our patients first and work hard to give them the best possible care.
As we considered a methodology to support our work, we've looked at several routes, but Agile keeps outshining all the other options. The Agile Manifesto resonates entirely with our values at Dorothy House; prioritising individuals and interactions, working software, collaboration and the ability to be responsive to change.
We recognise the old method of managing complicated workflow is broken. We have seen first-hand how it hinders progress, fosters disappointment, is riddled with risks, suffocates communication, creates silo working and requires unacceptable amounts of time to produce results. We cannot continue to work with outdated 20th-century processes and must invest in fresh ways of working.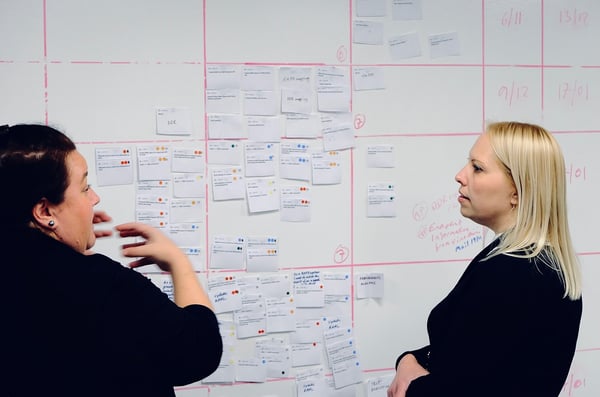 Caroline Hooper, our Head of Operations, showing Hollie Gale one of our boards
What we didn't expect was how incredibly supportive Infomentum would be to partnering with us on our journey. Having expressed an interest in shadowing their processes, they rolled out the red carpet and invited me to join them for a full day at their London office. Every moment was exceptionally well planned and supported by various team members who covered all aspects of planning, day-to-day operations and review. They shared the story of Infomentum and gave background to Agile and how they adopted Scrum across the company.
Every interaction was meaningful, articulate and incredibly helpful for casting a vision for how Dorothy House can benefit from Agile.
- Hollie Gale, Dorothy House
We will be moving this forward at the Hospice and the next step will be formal qualification and then implementation. The desire of the Comms Team is to set the standard across the organisation, encouraging every team to partner with us on this adventure.
The implementation of Agile across Infomentum, in a variety of teams working to different ends, has given us a vision for the future."
Hollie Gale, Dorothy House Hospice Care
The Infomentum team has truly enjoyed this day of knowledge sharing and hopes that Dorothy House will see the benefits of the Agile methodology very soon! We look forward to hearing about their successes in the coming months!
We all have something to give - if it's charities, social enterprises or other individuals or small businesses which can make the difference!
Challenge yourself to give back, and the opportunity will arise!
And if you want to find out more about Agile Methodology and how we've implemented it across our company, give us a shout!