Recently, we organised our first ever Infomentum quiz night. We've got a sociable office made up of 16 nationalities and lively personalities, and we try to have regular events to get different teams working together. Nothing says inter-departmental collaboration like a competitive quiz!
Our London-based office has a great communal area with a kitchen, foosball, and TV, so it was the perfect fun space to host our quiz night. We got in the beers (plus non-alcoholic options!) and snacks, turned the TV into a quiz display, and got ready to start the evening.
Three of the team made it happen. Sadaqa, a Customer Experience Analyst, Rachel, our Marketing Manager, and Neil, our Head of Customer Experience threw aside the day job and stepped up as the quizmasters. They got together to line up questions on general knowledge, music, technology, pop culture, TV and movies, Oracle trivia, famous quotes and sport.
The rest of us split into teams, picked at random and tasked with coming up with an inventive team name. Safe to say that the creativity that comes into our day jobs didn't transfer over to quiz team names as we got the following; "Anoop dogs", "Vikram's Angels", "Dan the Man with the Master Plan", "Infomaniacs", and "Informental". Yes, really.
The quizmasters had their rules; no phones allowed - yes, they successfully got a company full of technology obsessives to hand in their phones - and quizmaster is always right (because they Googled it and Google said so).
Despite laying down the rules, we all know that things can get heated when it comes to sports …the question "who has been the highest paid athlete so far in 2017?" proved to be particularly contentious, with one team in particular adamant that the quizmasters were wrong. No one agreed on who was finally right, but Forbes was the source for the Quizmasters and they're standing by Forbes as a reliable source!
After some tactical uses of the joker cards (double points for that round), another disagreement surrounding the Rocky movies and a lot of laughs, the winner was announced.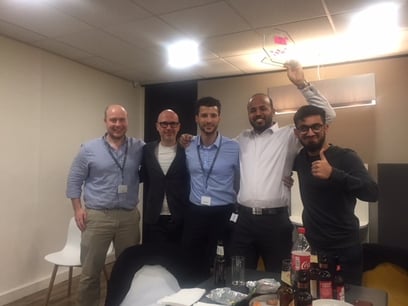 There was an unfortunate mis-count on the part of the quizmasters but finally, Team Infomental were crowned the winners! There wasn't a prize, but there was a shiny trophy borrowed from our bake off last year. Team Dan the Man with a Masterplan did not quite live up to its name unfortunately, coming in last place. Shame. But everyone scored an A for effort!
Due to popular demand, the Infomentum quiz night may be back. Hopefully with quizmasters who can add scores more easily under pressure!
Over the coming months, we'll be sharing more blogs like this to give a snapshot of what it's like to work at Infomentum. Subscribe to the blog to receive further updates on our culture, or check out our Facebook page to see the pictures.