Remember the famous scene with Tom Cruise hanging onto the cliff's side by only his fingertips? The bravest members of the team Infomentum were up to this challenge. No, we didn't fly to Norway; instead, we went to the City Bouldering as a part of our Wellness Program!
Bouldering does wonders for the body and mind. It requires not only physical exertion but also complex problem-solving and boundary-pushing abilities. It's about working together, helping and trusting each other to reach the top of the climb. How refreshing to take the skills we use daily in software development out of the office!
Did we enjoy the session?
"I could never imagine that it would be so good! I could feel my brain lighting up" admitted Sital Athwal, the support manager.
"Fun-filled activity that helps cross limits", called bouldering Anoop, our senior MuleSoft developer.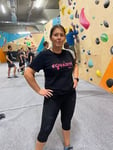 "It's a great team-building exercise; most of the time you rely on your friends on the ground to help you choose the next step. It wasn't easy to pre-plan every move and visualise how to conquer the climb", smiled Marta Monteiro, our CTO.
So, next time you need to quiet the mind from cluttered thoughts, zone into a zen state or even test your colleagues, head straight to bouldering.