How does your team get into the Christmas spirit? With it being the season of giving back, what better way than spending a day helping a local charity! So, when an invitation from MuleSoft came in we didn't hesitate—helping an urban farm for a day? We are in!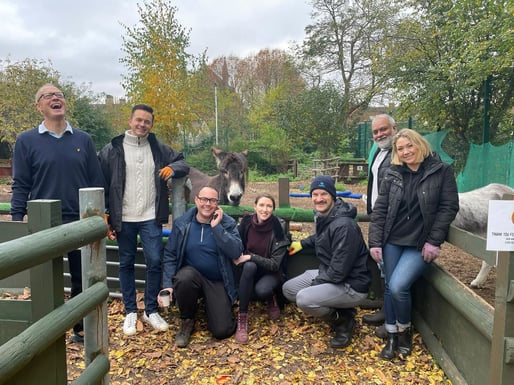 The MuleSoft and Infomentum team posing in front of the donkey enclosure at Spitalfields city farm.
We didn't have to travel far, the Spitalfields city farm is located a short distance from Brick Lane. It consists of an extensive garden where affordable local food is grown. Other attractions include an animal enclosure inhabiting their full-time residents with a shop and a tea hut close by.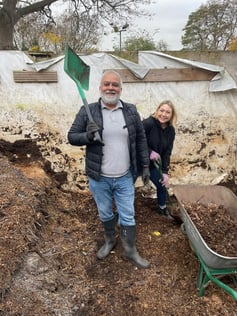 Vikram and Alecia getting their hands dirty!
With our Sales leaders CCO Vikram Setia and Head of Sales Alecia Ridout ready to muck in, they got straight to work. From painting the goat enclosure to cleaning the stables and moving the muck. Not only that, but they got to learn about the many prominent characters on the farm, from the sheep who got featured in a blockbuster sci-fi film giving Mark Hamill a run for his money to another being selected to take part in a walk over London Bridge with Boris Johnson. Even a pig called Holmes, who used to be quite shy but has become much more outgoing and loves attention, especially if it comes in the form of treats or belly rubs! The stories are endless.
If you would like a chance to meet the characters and learn more about their stories, pop down from Tuesday to Sunday between 10 am to 4 pm and offer up your support. What better way for you and your team to get into the spirit of the season of giving and enjoy the atmosphere that Spitalfields farm has to offer.